Rafael Nadal is unhappy with the schedule after the Covid-19 epidemic, he declares to give up the US Open 2020.
After the Madrid Open in Spain canceled, the tennis village continued to receive unhappy news regarding world No. 2 player Rafael Nadal. Although the defending champion of the US Open 2019, Spain's "Gaur" will not come to the United States to protect the title for fear of the Covid-19 epidemic.
Previously, Ashleigh Barty (Australia) also claimed not to attend, so the US Open 2020 will not have both male and female champions.
"After many days of thinking, I decided not to play. The situation is very complicated worldwide, Covid cases are on the rise, it seems we still have no control over it.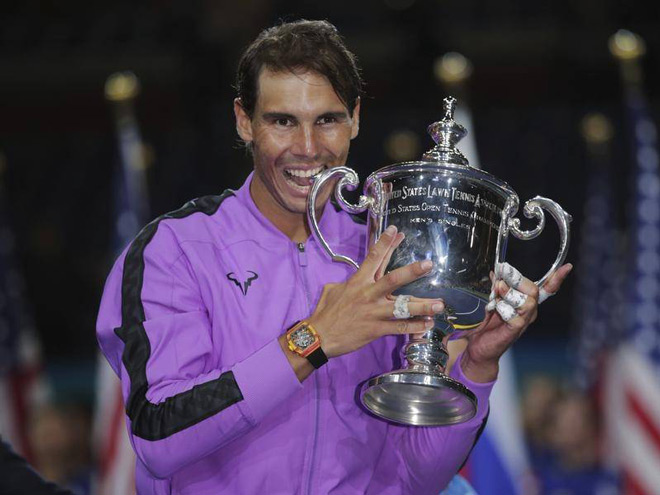 We know that the schedule has been cut horribly, we have to take 4 months off. I understand and thank them for the efforts that the organizers have made to bring the players back to play ", the Daily Mail (UK) quoted Nadal's statement.
According to the new ATP scoring method, although Nadal did not attend the US Open 2020, the player still retained 2,000 championship points last year. Similarly, Federer unable to play due to injury also preserved 360 points last year to reach the US Open quarterfinals.
"Big 3" will leave only Novak Djokovic, the Serbian tennis player who has previously suggested he does not want to attend the US Open, but recently he has been practicing hard courts with the ball of the Grand Slam tournament in the US. This signal indicates that the world's No. 1 Serbian tennis player, scheduled to attend the US Open 2020, starts to compete on August 31.
Last year, Djokovic only reached round 4, so "The Djoker" has an opportunity to increase by 1,720 points if winning the championship, more importantly the Serbian tennis player will reach the 18 Grand Slam career, only less than Nadal 1 and Federer 2 titles.